Happy Halloween!
A couple of weeks ago, I came across this recipe which looked so cute and spooky that I just had to try it for myself! Also, with this cooking endeavour, I was able to properly assess whether or not Tasty videos are actually doable for the average human. (In this case, yes!)
So, here is my version of Jack O' Lantern Stuffed Peppers. Exciting! (The picture below is from BuzzFeed. I realize now that I forgot to take a picture of the finished product. My bad.)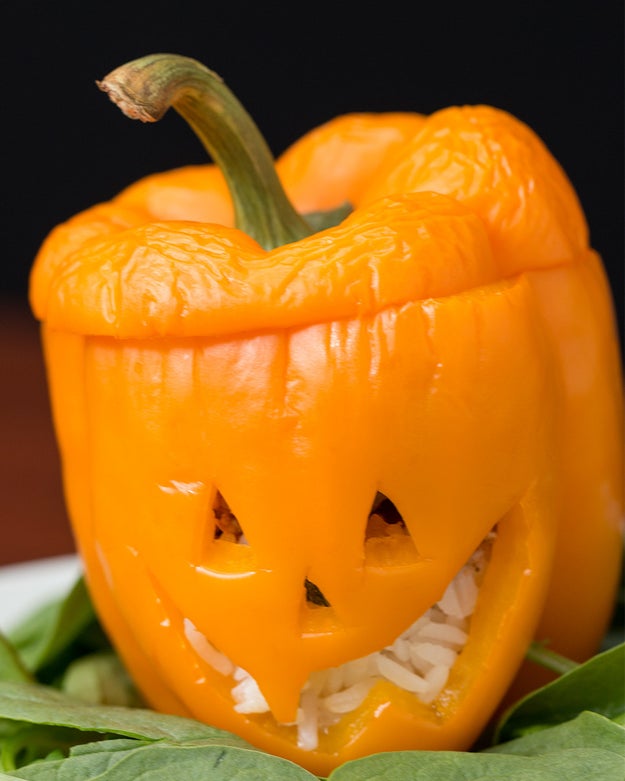 The first thing I did was cook my rice. I only used 3/4 of a cup of rice, so I had to steam it on the stove instead of cooking it in a rice cooker. (Good thing Dangerous Dan had done this before; I am extremely reliant on my rice cooker!) Next, it was time to prepare the need-to-be-cooked components of the stuffing. We cut up the onions, marinated the turkey, and put it on the stove!
Next came a pretty difficult step … preparing the peppers. (*Note: I bought red peppers instead of orange because they were cheaper.)
First, I used a large knife to cut the tops off, leaving the stem on. It got quite messy when trying to remove seeds. There are pepper seeds all over my kitchen! Cutting the faces into the peppers were also a bit difficult, but I figured out an easier way – I just dug a small paring knife into the pepper until I made a slit the width of my knife, then did it two more times to create a nice, somewhat equilateral triangle! I made great eyes, but my smiles and mouths always came out a little crooked.
Once the peppers were prepared, it was time to stuff! Here is the order of operations: rice, meat, egg, cheese! We beat three eggs to make a yellow, yolky mixture. And we used cheddar cheese because that's what was in my fridge.
Once we finished stuffing the peppers, this is what it looked like!
We put the tops back on, popped it into the oven at 350° F for around 30 minutes, and that was that! Done! (*Another note: The egg spilled everywhere and when we took the peppers out of the oven, they were sitting in a yellow pool of yolk. But everything still tasted fantastic!)
Dangerous Dan and I brought our jack o' lanterns to a spooky gathering where no one was dressed up. We got good verbal feedback, but I still went home with an extra pepper even though we'd only made 7 in total and one was left at home for my parents and we'd eaten  one by ourselves!
But the process was fun, pretty simple, and sort of tasty, so I'd highly recommend it for any Halloween festivities you may encounter this week!